Starfield is just a short drive away!
Looking for Sacramento wineries? Located in the heart of Apple Hill, Starfield Vineyards & Winery is the perfect getaway. Nestled in the Sierra Highlands just 5 minutes outside Placerville on Hwy 50, we're just 45 minutes east of Sacramento. Sip and relax with delicious wines while taking in our stunning mountain views.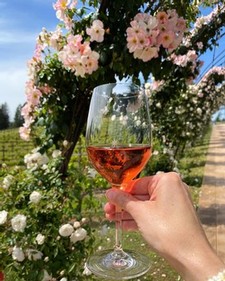 Wine Tasting on the Porch
Visit our hilltop location for a classic wine tasting adventure with a view! We make wines for every taste. With a diverse portfolio of outstanding wines from El Dorado, North Coast and Santa Cruz appellations, Starfield Vineyards offers guests a wide array of red wines, white wines and sparkling wines. Our casual daily tastings are perfect for novice wine drinkers as well as seasoned critics. Wine tastings offered 7 days a week from 11am to 4:30pm.
Winery Lunch at Starfield
The Starfield Culinary team creates fresh, locally sourced lunch choices designed to exquisitely pair with our small-lot wines. Select from artisan sandwiches, fresh salads, seasonal appetizers, and a broad collection of cheese and charcuterie. Finish your meal with a delicious selection of house-made desserts and sweet treats. Lunch reservations offered Thursday - Sunday from 11am to 3:15pm.