The Gardens at Starfield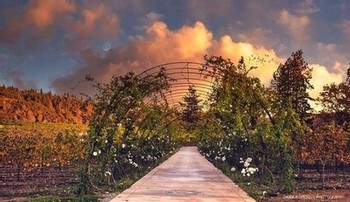 The Gardens at Starfield extend over ten acres of forest, woodland and ponds. They are inspired by the ferme ornée -- decorated farm -- style of English landscape architecture, first proposed by Stephen Switzer in 1715, and later realized by Philip Southcote at Woburn Farm, Surry in 1732. George Washington incorporated many of these style elements in his Mt. Vernon estate, as did Thomas Jefferson at Monticello. The main element of the design is a path that takes the guest on a circuit of the landscape. At Starfield, there are over three miles of paved paths and roads, which radiate like the spokes of a wheel from the top of the ridge to the bottom of the hill, connecting to a rim at the boundaries of the property, sweeping guests back to the hub. The trails are bordered by a wide variety of flowers, climbers, and shrubs, and shaded by natural pine forest and oak woodland, plus a wide range of maples, scarlet oaks, aspen, white alders, ginkgos, tupelos and many other trees.
The path starts at the Rose Arbor just outside the Tasting Room. The arbor extends over 300' from the Tasting Room to The Ridge, where it connects to the Lake Trail, Forest Trail, and Big Canyon Trail. It's covered by hundreds of Iceberg and Sally Holmes climbing roses, whose light fragrance enchants visitors in spring and summer, and which produce dazzling sprays of white flowers year-round.