Explorer - Pick Up Club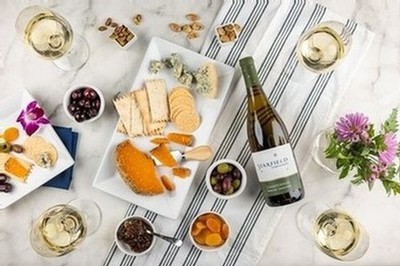 This is the perfect club to explore Starfield's wine portfolio. This is a pick-up only club for members who are able to enjoy our beautiful property multiple times per year. "Star Explorer" Members receive three bottles of our small lot and Estate Grown wines four times a year. Wine Club release months are February, May, August and November. Charges average $100 - $115 per release (after discount) plus tax.
Members of the Star Explorer Club enjoy the following benefits:
30% discount on purchases of 10 or more bottles
25% discount on purchases of 6 to 9 bottles
20% discount on purchases of 1 to 5 bottles
15% discount on merchandise and gift items
$20 flat rate ground shipping on all orders of 6 or more bottles shipped ground to one address
Other Benefits & Discounts
Tasting Room Covered Porch: Complimentary tasting at the Starfield Tasting Room Covered Porch for member and 5 guests. Limited to 6 pours per person per visit.
Member-only Lake Pavilion: Complimentary for member and 5 guests. Maximum group size is 6 guests. Limited to 6 pours per person per visit.
2750 Lounge: Complimentary 2750 Lounge tasting for member and 3 guests. Limited to 6 pours per person per visit. Maximum group size is 4 guests.
Waived Lunch Reservations Fee: Lunch reservation fees are waived for Starfield Club Members.
Lunch Menu Discounts: Starfield Club Members will receive a discount on all à la carte menu items.
Winery Event Discounts: All events offer exclusive member only discounts or complimentary offers. Discounted tickets and allotments will vary with each event. Discounted tickets and/or complimentary ticket allotments will be disclosed upon the announcement of the event.
Membership Fee: Upon day of sign up, you will be charged for the most recent release, or you may choose a custom order of the same or greater value.
Exchangeable Releases: Quarterly release selections are exchangeable at the time of pick-up for wines of equal or greater value.
Priority Access: Exclusive priority access to all new releases, experiences and events.
Wine Selection: Members are welcome to select from any of our current release wines including wines for our Sierra Highlands Estate and Coastal vineyards. We offer a diverse selection of Rhone varietals, Italian varietals, Sparkling Wines, Cabernets, Chardonnays and Pinot Noirs.
Cancellation Fee: A $40 cancellation fee will be charged if the member cancels before their second consecutive release.