Lunch at Starfield Vineyards & Winery
Looking for a more unique place to eat? Starfield Vineyards & Winery is the perfect outdoor dining spot in Placerville to enjoy lunch with beautiful vineyard and mountain views! Nestled in the Sierra Highlands, just 5 minutes from downtown Placerville, 45 minutes east of Sacramento and 1 hour west of South Lake Tahoe, enjoy a beautiful afternoon of delicious food, wine sipping and relaxing.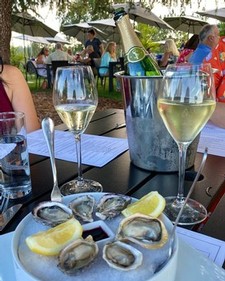 Hungry? Explore our wine, beer and food!
Stop at Starfield to enjoy a wine tasting, lunch or to just stretch your legs on our nature trails. Tasting reservations offered 7 days a week. Lunch reservations offered Thursday - Sunday. Uncork your next adventure at Starfield! Click the links below for more details.