Wednesday Night Wine & Dine
Our summer-time Wednesday dinner service is back! Sipping on your favorite Starfield wine, eating some delicious food, listening to relaxing live music and watching the sunset is a phenomenal mid-week break!
Reservations Required
Reservations offered 5:30pm to 7pm
Gates open at 5:15pm
Live Music 6pm to 9:30pm
Closing Time: 10pm
Must be 21+ to attend
Reservation Fees: Members $5/person, Non-Members $10/person.
List of dates below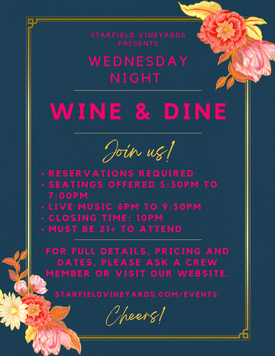 We invite you to join us on our grassy Upper Patio for some delicious wines and a selection of tasty, shareable appetizers and phenomenal entrees. This is a perfect mid-week outing to unwind! There is nothing more spectacular than relaxing while you enjoy the epicurean delights as the sunsets over the vines. All food, beer and wine will be charged à la carte so guests are welcome to purchase as much or as little as they like.
Reservations Required. Seating will be limited and we will not be able to accommodate walk-ins. Reservations are required and will be based on availability. Reservations are offered starting at 5:30pm and the last at 7:00pm. To make reservations, please click here and fill out our "Reservation Request Form." Please note this is just a request and does not confirm your reservation.
Arrival Instructions: Gates open at 5:15pm. Please arrive at your designated reservation time and check in at the Tasting Room. Please note, your table will not be ready before your reserved time. A copy of your reservation time will be in your reservation invoice.
Reservation Fees:

Members' reservation fee is $5 per person
Non-members' reservation fee $10 per person
Reservation fees are charged at the time of booking
Reservation fees are applied to the final bill as credits the day of the reservation
Food & Wine menu pricing is à la carte

Cancellation Policy: If you cancel with less than a 72 hours' notice, no show or your guest count decreases, the reservation fees are non-refundable.
All attendees must be 21 years of age or older. We apologize but due to the adult nature of the evening, we cannot accommodate any babies, infants, children or minors for our Wine & Dine events. We are unable to accommodate any guest who cannot provide a valid ID.
Guest Count: Please note, each reservation is booked at a specific table. Each table has a specific number of guests that it can accommodate. Because of physical space limitations at each table, we may not be able to accommodate guest count increases. Please respond to your reservation invoice if you would like to increase or decrease your guest count.
Maximum total group size is 6 guests. We apologize but we will not be able to accommodate groups of 7 or more. Guest count must include all people that will be with the group (DDs, non-drinkers, etc.).
Food Options: For our Wine & Dine experience, we will be offering an array of seasonal, tasty appetizers, entrees and nightly specials. Guest may purchase as much or as little as they like. Outside food and/or picnics cannot be brought in. Kitchen and food options end at 8:30pm. Please note, we feature fresh, seasonal items and the menu will change slightly from week to week due to seasonal produce and products. View our June menu here!
Wine & Beer Options: During Wine & Dine reservations, wine by the glass and/or bottle as well as beers from our beer list will be available for purchase. Please note, we are unable to offer tastings and/or wine flights during the event.
Live Music: Live music will start at 6pm and end at 9:30pm. Patrick Walsh will be playing each Wine & Dine event.
Location: The Upper Patio is the grassy section of our patio that is located outside of our Tasting Room.
Duration & Times: Reservations will be offered from 5:30pm to 7:00pm. Food service will close at 8:30pm. Last call for wine and beer will be at 9:30pm. Festivities and property will close at 10pm. Folks are more than welcome to stay from their reservation time to the end of the event.
No Dogs: We apologize but these events are not dog friendly.
Nature Trails: We apologize but due to safety issues and concerns, the nature trails and all outdoor areas other than the patio will not be available during this event.