Skip to content
Ginger Bite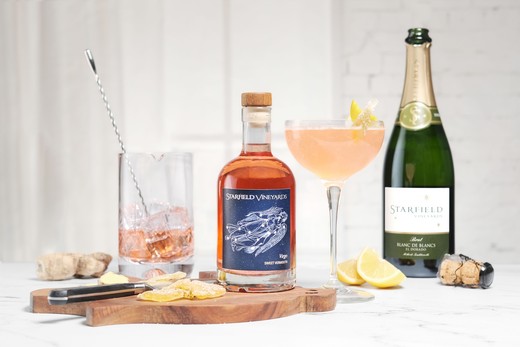 Recipe Date:
March 13, 2023
Measurements:
Imperial (US)
Ingredients
2 oz. Starfield Virgo Vermouth
2 ½ oz. Starfield 2020 Blanc de Blancs
½ oz. fresh lemon juice
½ oz. ginger syrup*
Candied ginger to garnish
Lemon wedge to garnish
Directions
In a mixing glass, add vermouth, lemon juice and ginger syrup over fresh ice and stir to chill. Strain into a chilled cocktail coupe and top with chilled Blanc de Blancs. Garnish with a candied ginger and wide lemon peel.
Ginger Syrup: In a saucepan, bring 1 ½ cups of water to a boil. Turn off heat and add 2 cups of sugar and 1 cup of chopped ginger. Stir until sugar is dissolved and allow to cool. Carefully pour everything from the saucepan into a blender. Blend then strain through a fine mesh sieve. Store in a clean container for up to 2 weeks.
Recommended Glassware