Tom Sinton, Proprietor & Consulting Winemaker
Tom grew up on a ranch in the Paso Robles area where his family raised cattle, alfalfa and sugar beets. His mother tended a large garden of California natives, inspiring Tom's lifelong love of growing plants. At the age of 15, he spent a transformative summer with a family in Reims, France who, to his delight, served wine with every meal!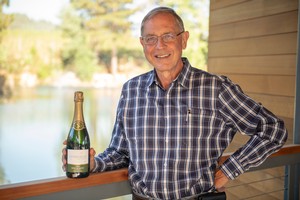 The interconnectedness of food, wine, and family profoundly resonated with Tom, who went on to plant Shell Creek Vineyards in 1972 on the family ranch in Paso Robles. He received his Masters in Food Science at UC Davis and spent years farming grapes until reluctantly selling the vineyard in 1990. He spent the next few decades involved in non-wine-related ventures, but was unable to shake the desire to finish what he started in Paso Robles: to create a vineyard and winery that produced great wines, able to be enjoyed with every meal (well, not breakfast).
In 2011 Tom began to make a small amount of wine in Napa under the Starfield Vineyards brand with the help of his son, Rob. They made four vintages, but both quickly realized that Napa was too crowded and expensive to fulfill their dreams of establishing their own vineyard, winery, and tasting room.
Living together in the Bay area and sharing countless glasses of wine, Tom and Rob found themselves increasingly drawn to the Mediterranean varieties grown throughout The Rhone, which led to a monthlong trip during which they tasted at 4-5 wineries per day, taking extensive notes that would lay the groundwork for their winemaking philosophy. They began an exhaustive search across the West Coast to identify the perfect location to plant a vineyard of those varieties.
In 2012, they chose a 67-acre hillside property in the Sierra Foothills just east of Placerville, in the El Dorado AVA. Today, while Tom and Rob tag-team most of the vineyard and winery, Tom primarily manages the vineyard (and most other jobs that nobody else wants… like bookkeeping).