Rob Sinton, Winemaker
Rob grew up as an urban kid in the Bay Area. He loved computer games, science and technology, showing little interest in wine-making. However, following the trajectory of his father, the age of 18, he spent a summer backpacking in Australia where he enjoyed great beer and Barossa Valley Shiraz with his mates. The proverbial die was cast. When he returned, he started brewing beer – memorably a seasonal pumpkin beer that never lasted long.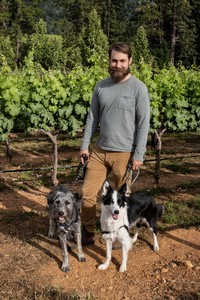 As luck would have it, Rob chose UC Davis for college. There he took a wine course, which led him to start home winemaking by fermenting some El Dorado Mourvedre. As soon as he had a chance, Rob switched his major to Viticulture and Enology.
Rob and Tom selected the Placerville vineyard site along with the layout and varieties. Although Tom developed and managed the vineyard through the early years, in 2020 Rob actively began working on the El Dorado winemaking with his father. In 2022, he relocated to Placerville to become head winemaker. Currently, Rob primarily manages the winemaking, but also takes the lead managing the technical infrastructure and the thousand landscape trees Tom and Rob have planted.