Executive Chef, Yutaro Tachibe
Chef Yutaro's journey began in an environment of culinary pioneers. His father, Shigefumi Tachibe, former and longtime chef of Chaya Brasserie in Beverly Hills, invented tuna tartare and soon was selling 35,000 orders a year. While his father worked long hours at the restaurant, his mother, originally from Osaka, cooked for a growing family of seven, and instilled a deep appreciation of comfort food which has stayed with Yutaro to this day.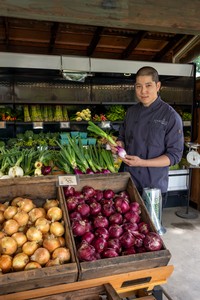 After completing his culinary education at the California School of Culinary Arts in Pasadena, Yutaro set out to refine his craft by working in some of California's Michelin-starred restaurants. In 2006, he joined the renowned Melisse, a 2-star Michelin restaurant located in Santa Monica.
In 2011, Chef Yutaro then accepted the position of sous chef at Benu, a 3-star Michelin restaurant led by Corey Lee in San Francisco. His dedication and expertise were recognized, and in 2014, he was promoted to Executive Sous Chef at Monsieur Benjamin, another culinary gem under Corey Lee's leadership. Continuing his collaboration with Corey Lee's team, Yutaro assumed the role of Executive Sous Chef at In Situ in San Francisco in 2016, which was awarded a Michelin star in 2017. Yutaro's culinary journey then led him to join the esteemed team at Wayfare Tavern in 2019, working alongside chef Tyler Florence as Chef de Cuisine.
Now, as the Executive Chef of Starfield Vineyards, Chef Yutaro brings his wealth of experience and expertise to oversee the entire culinary program. From creating innovative menus to developing his comprehensive programs, Yutaro embraces a hands-on approach to leadership and execution. His unwavering commitment to procuring locally crafted, high-quality ingredients resulted in a fruitful relationship with a neighboring farm, 24Carrot, who supplies him with certified organic produce. His culinary mastery and deep-rooted passion creates an extraordinary dining experience for our guests. With a nod to his culinary roots, Chef Yutaro seasonally offers the tuna tartare.