Fine Wine & Dine Dinner
Reservations Required
Price: $160 per member | $180 per non-member
Arrival & Reception: 6pm
Dinner: 7pm
Closing: 10pm
Must be 21+ to attend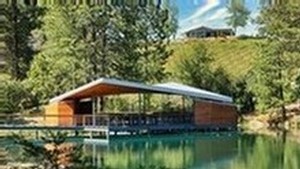 Click here to request a reservation
We invite you to join us at our stunning estate for an evening filled with unforgettable food and wine! You will be treated to an exquisite 4-course dinner and wine pairings served at our tranquil Lake Pavilion, built over the calm waters of Starfield Lake. Our Chefs have designed each incredible course to showcase the delights of the season's freshest ingredients that have been expertly paired with our highly acclaimed, small lot wines.
The cool air wafting from the lake paired with epicurean pleasures makes this intimate setting the perfect back-drop for an unparalleled wine country experience. While you savor amazing combinations of food and wine, you'll experience the beauty of a Sierra Foothills sunset and the serenity of the lake that allow your senses to be fully immersed in a unique lakeside wine paired dinner.
A night sure to be filled with an abundance of fun, laughter, exceptional wine, and phenomenal food.
Reservations Required. To request a reservation, please call us at 530-748-3085 ext. 2. Our reservation system is currently down. Please leave a message if we are unable to answer the phone, and we will call you back.
Pricing: $160 per member | $180 per non-member

Tickets will include a Champagne reception with pass hors d' oeuvres followed by a 4-course wine paired dinner. Wine pairings included in price.
Tax and gratuity not included.

Location: Guests will be greeted at our tasting room and then lead down to our Lake Pavilion for dinner service.
Dates:

Friday, June 11th - SOLD OUT
Friday, June 25th - SOLD OUT
Friday, July 23rd - SOLD OUT
Friday, August 6th - SOLD OUT

Duration & Times:

Guest Arrival: 6pm
Dinner: 7pm
Closing: 10pm

Maximum total group size is 6 guests. This is an intimate event with limited seating. We apologize but we will not be able to accommodate groups of 7 or more. Please be sure to include all people that will be with the group (DDs, non-drinkers, etc.). We will be unable to accommodate last minute additions.
Must be 21 years old to attend. We apologize but due to the adult nature of this experience, we cannot accommodate any minors, children or babies.
Cancellation Policy: Should you need to cancel, please cancel at least 72 hours before your reservation to avoid cancellation fees and to receive a full refund. We apologize but we will not be able to issues refunds once we are within the 72 hour window. If you need to downsize your party size, please call us directly 72 hours in advance to avoid the cancellation fees.
Dietary Restrictions: We will be able to accommodate dairy-free, gluten free and pescatarian. We apologize but we will be unable to accommodate vegan diets.