Bottles & Bites
Reservations Required
Reservations offered 5pm to 7:15pm
Live Music 6pm to 9:30pm
Closing Time: 10pm
Must be 21+ to attend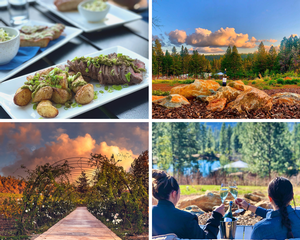 There is nothing more spectacular than the golden hour of a vineyard. When the day is coming to a close and the peacefulness settles over the fields, your heart and mind quietly smile. Sipping on your favorite Starfield wine and watching the sunset is a phenomenal mid-week break!
We invite you to join us for a relaxing evening on our Upper Patio for some delicious wines, complimentary beer samples and a selection of tasty, shareable appetizers and entrees. This is a perfect mid-week outing to unwind! All food, beer and wine will be charged à la carte so guests are welcome to purchase as much or as little as they like.
Reservations are required and will be based on availability with the first offering at 5pm and the last at 7:15pm. Tasting Room will close at 10pm. The largest group we can accommodate is 6 people and all attendees must be 21 years or older. Please note, this is not an event but extended hours for folks to enjoy the beauty and cooler temperatures.
Reservations Required. Seating will be limited and we will not be able to accommodate walk-ins. All guests must be 21 years of age or older. To make reservations, please click here and fill out our "Reservation Request Form" Please note this is just a request and does not confirm your reservation.
Reservation Fees:

Members reservation fee is $5 per person
Non-members resevation fee $10 per person
Reservations charged at the time of booking
Reservation fees are credited to the final bill the day of the reservation
All menu items are charged a la carte and as ordered
If you cancel with less than a 72 hour's notice or no show, the fees are non-refundable

Maximum total group size is 6 guests. We apologize but we will not be able to accommodate groups of 7 or more. Tables cannot be pushed together. Large groups broken up into smaller groups will not be accommodated. Groups cannot be combined. Guest count must include all people that will be with the group (DDs, non-drinkers, etc.). We politely ask for everyone to respect this policy.
Food Options: For our Bottles & Bites experience, we will be offering an array of seasonal, tasty and shareable appetizers, entrees and nightly specials. Guest may purchase as much or as little as they like. Outside food and/or picnics cannot be brought in. Kitchen and food options end at 8:30pm. Please click here for the menu. Please note, the menu might change slightly from week to week due to seasonal produce and products.
Wine & Beer Options: During Bottles & Bites reservations, wine by the glass and/or bottle as well as our beer list will be available for purchase.
Live Music: Live music will start at 6pm and end at 9:30pm. Each week, we will feature a local solo-musician to play chill tunes for guest to relax to!
Location: The Upper Patio is the grassy section of our patio that is located outside of our Tasting Room.
Duration & Times: Reservations will be offered from 5pm to 7:15pm. Food service will close at 8:30pm. Last call for wine and beer will be at 9:30pm. Festivities and property will close at 10pm
Nature Trails: We apologize but due to safety issues and concerns, the nature trails and all outdoor areas other than the patio will not be available during this event.
Cancellation Policy: If you cancel with less than a 72 hours' notice or no show, all reservation fees are non-refundable.
Must be 21 years old to attend. We apologize but due to the adult nature of this experience, we cannot accommodate any minors, children or babies.